The Chinese government has intensified its crackdown on cryptocurrencies by declaring that all crypto-related transactions are "illegal".
Yesterday, Bitcoin fell by 5.49 percent to about $42,000, while ethereum slumped by 7.71 percent to $2,899, according to data from coinmarketcap.com.
In May, the Chinese government pledged to crack down on Bitcoin mining and trading.
It had placed a ban on financial firms and payment institutions from offering services related to cryptocurrency transactions.
In a Q&A posted to its website yesterday, the People's Bank of China (PBOC) said that all "virtual currency-related business activities are illegal financial activities."
The bank said that as cryptocurrencies including Bitcoin and Ethereum are issued by non-monetary authorities, "they are not legal and should not and cannot be used as currency in the market."
"Virtual currency does not have the same legal status as legal currency," the statement partly reads.
The PBOC said that services offering to trade, order matching, token issuance and derivatives for virtual currencies are strictly prohibited.
Activities considered illegal cover a range of operations, such as buying and selling virtual assets as a central counterparty and providing intermediary or pricing services for crypto transactions.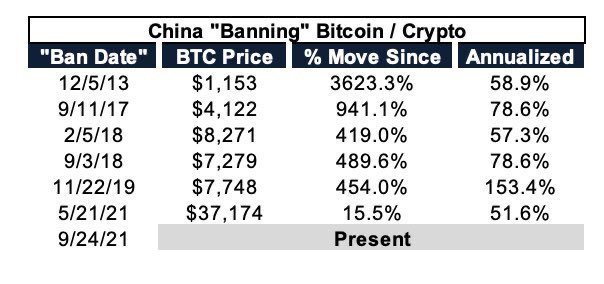 "Those who carry out related illegal financial activities (that) constitute a crime shall be investigated for criminal responsibility in accordance with the law," it said.
The bank specifically called out the services offered by offshore crypto exchanges to Chinese customers via online platforms.
"The provision of services by overseas virtual currency exchanges to Chinese residents through the internet is also an illegal financial activity," it said.
READ ALSO! Nigerian Central Bank Approves Disbursement Of Loans For Creative Industries At 9%
READ ALSO! Tony Elumelu To Empower 1,000 Northern Entrepreneurs With $5000 Each
READ ALSO! How To Empower Yourself And Generate Income From Mutual Funds
READ ALSO! Is N-Power Truly Empowering Nigerian Youths?
READ ALSO! How Nigerian Govt Can Lift 100million People Out Of Poverty — Tony Elumelu
READ ALSO! TraderMoni: Poverty Alleviation Or Political Leverage?
READ ALSO! Is N-Power Truly Empowering Nigerian Youths?
READ ALSO! Gtbank 737 Disservice: How to Kick Your Customers in the Butt!
READ ALSO! Why The North Remains Headquarters Of Poverty In Nigeria — Kingsley Moghalu
READ ALSO! The Love Of Your Life Is An Illusion: It Doesn't Exist Anywhere!