Irene Nwachukwu, the baby mama to Jamil Abubakar, son-in-law to Aliko Dangote, the billionaire businessman, has filed for sole custody of their son over his alleged extreme religious views.
On May 12, Jamil, who is the son of Mohammed Abubakar, former inspector-general of police (IGP), appeared to have endorsed "killing as punishment for blasphemy" via his Twitter page.
"In Islam, we respect the Injil, Taura, Zabur, we were never taught to disrespect any of the book, or any of the prophets from Adam to Muhammad SAW and the Quran. The punishment for blasphemy is death In most religions including Christianity. Respect people's religion, it's simple," he had written.
His post came in the wake of the widespread outrage trailing the death of Deborah Samuel, the student of Shehu Shagari College of Education, who was murdered for alleged blasphemy.
In a petition dated May 17, Nwachukwu said she is disturbed by the pilot's "extreme views". She added that she cannot leave her child, who she said is a Christian, with someone with such ideology.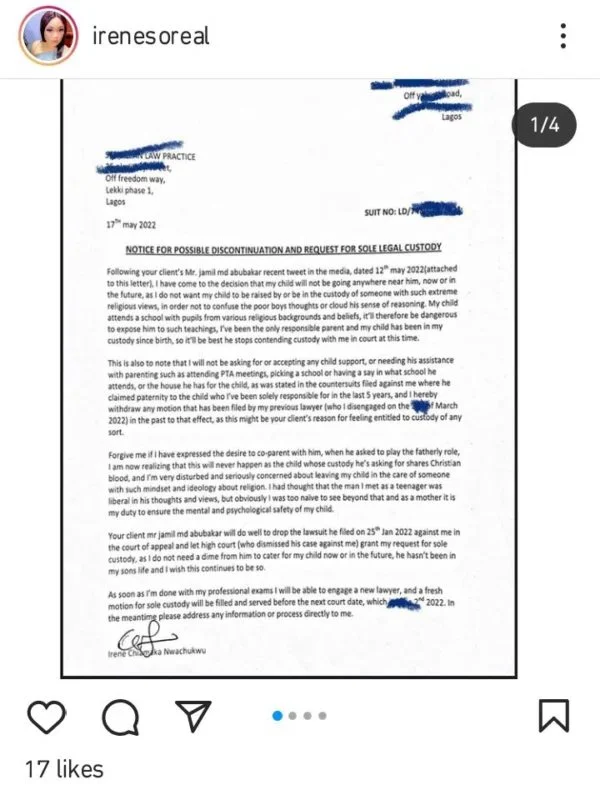 The pilot had earlier clarified his post in a follow-up statement, adding that his remark was not in support of Deborah's death as claimed in some quarters.
Religion is a temper flaring zone. I know emotions are running wild. A lot of people read my tweets without understanding me, which is normal. "The headline" didn't help either. Have never advocate for one's life to be taken or people taking matters into their own hands
1/2 pic.twitter.com/wwYemhyS92

— Capt🛫Jamil MD Abubakar👨🏾‍✈️ "SkyDanfoDriver"🦬 (@CaptJamyl) May 15, 2022