The Central Bank of Nigeria (CBN) says it did not extend the validity of old naira notes till May 1, 2023.
On Tuesday, a statement, which is said to have been signed by Osita Nwanisobi, CBN spokesperson, began to circulate on social media platforms.
The statement claimed that the apex bank has been directed to recirculate the old naira notes, adding that they would remain legal tender till May.
The statement in question reads: "Due to the current and unpleasant situation happening in Nigeria, In line with Mr. President. After having a closed meeting with him on the 20th of February, 2023, the Central Bank Of Nigeria (CBN) has been directed to ONLY reissue and recirculate the old N200, N500 and N1000 banknotes and this is expected to circulate as legal tender for 70 days up to May 1, 2023."
CBN Disowns Statement Shared By Aisha Buhari On Naira Notes Deadline
"Members of the public should therefore continue to spend the old notes.
"Media practitioners are advised to PLEASE spread out this helpful information to the public."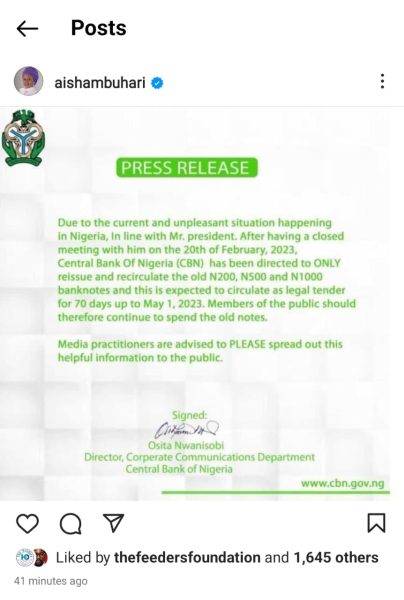 The statement was also shared by Aisha, wife of President Muhammadu Buhari, on her official Facebook and Instagram page.
Through a post via its Twitter handle, the CBN described the viral statement as "fake news".
The apex bank advised members of the public to be wary of false information.