There was a commotion at the federal high court in Abuja today after the sentencing of Abdulrasheed Maina, former chairman of the Pension Reform Task Team (PRTT).
Maina was sentenced to eight years in prison after being found guilty of money laundering.
After the verdict was delivered, operatives of the Economic and Financial Crimes Commission (EFCC) clashed with officials of the Nigerian Correctional Service (NCoS).
Security personnel from both organisations had an altercation while attempting to take custody of Maina.
Following the sentencing by the judge, prison officials, who were already on standby in the courtroom and within the court premises, led Maina out.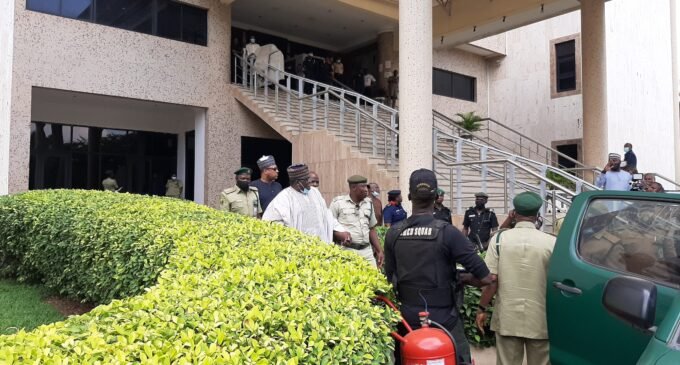 However, confusion started when EFCC operatives insisted that Maina must go in their vehicle.
READ ALSO! Nigerian Central Bank Approves Disbursement Of Loans For Creative Industries At 9%
READ ALSO! Tony Elumelu To Empower 1,000 Northern Entrepreneurs With $5000 Each
READ ALSO! How To Empower Yourself And Generate Income From Mutual Funds
READ ALSO! Is N-Power Truly Empowering Nigerian Youths?
READ ALSO! How Nigerian Govt Can Lift 100million People Out Of Poverty — Tony Elumelu
READ ALSO! TraderMoni: Poverty Alleviation Or Political Leverage?
READ ALSO! Is N-Power Truly Empowering Nigerian Youths?
READ ALSO! Gtbank 737 Disservice: How to Kick Your Customers in the Butt!
READ ALSO! Why The North Remains Headquarters Of Poverty In Nigeria — Kingsley Moghalu
READ ALSO! The Love Of Your Life Is An Illusion: It Doesn't Exist Anywhere!