The Ebonyi State government has unveiled the state chapter of Ebube Agu, the regional security outfit established by the Southeast governors.
The public presentation of the state chapter of Ebube Agu was done on Wednesday, during a media briefing by David Umahi, governor of Ebonyi, after a security council meeting held at the new Government House in Abakaliki.
Also, as part of measures to safeguard the state, the governor has ordered all native doctors to register with the police and the state, while a movement restriction has been imposed on all border areas from 8 pm to 6 am.
The development comes amid attacks on security facilities in the state.
Two weeks ago, three police officers were shot dead at a checkpoint on Onuebonyi/Nwezenyi road, Abakaliki by gunmen who disguised as mourners.
On Monday night, two soldiers were reportedly shot dead by gunmen at a military checkpoint in Timber Shade junction, Amasiri, Afikpo North LGA of the state. The gunmen were said to have carted away the rifles of the dead soldiers.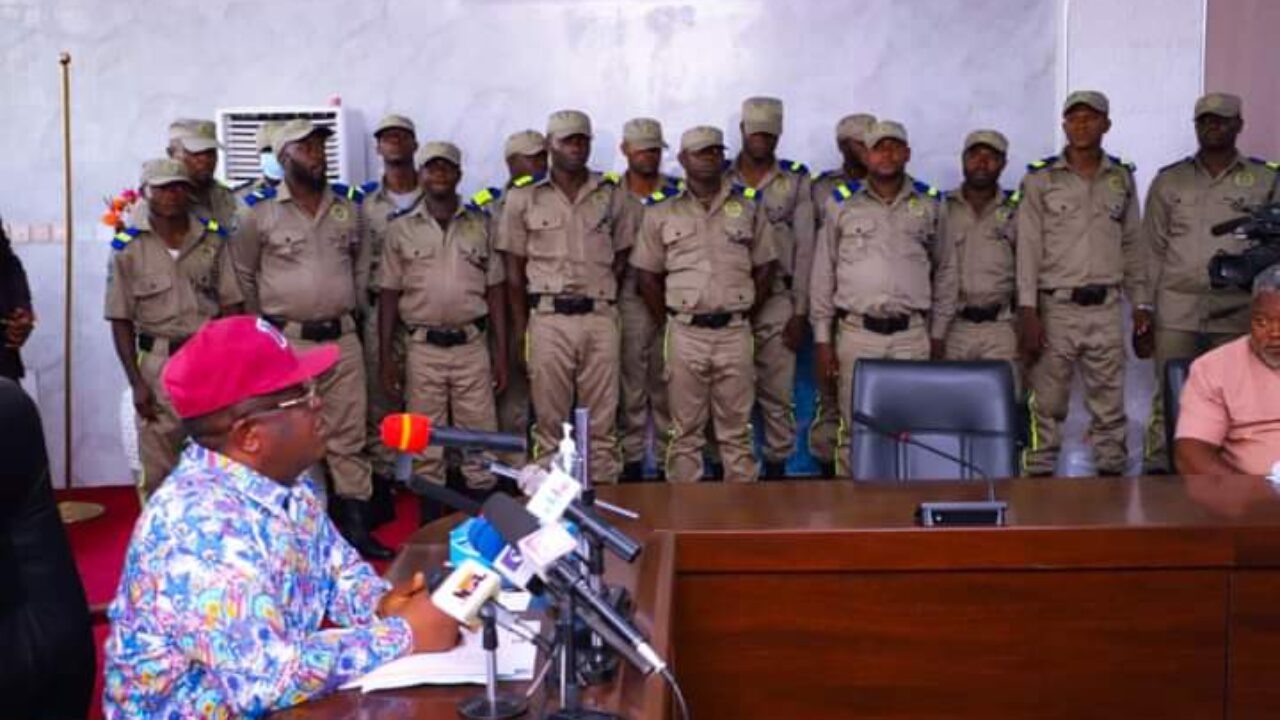 Umahi, who ordered that all social activities in the state must end by 6pm, charged council chairmen and relevant security outfits to enforce the order.
"When you defy this order, you will pay a minimum of N1 million, because a lot of hoodlum activities that happened this week happened in the night," Umahi said according to a statement by Frank Nwaze, his spokesperson.
"We have agreed that all native doctors in the state and traditional medicine dealers must within seven days, register with the commissioner for border peace, with the commissioner for health, and with the commissioner of police.
"There would be an executive order to this effect and anyone caught doing otherwise would be arrested and prosecuted."
He called for an end to the killings of security personnel, civilians and the destruction of public facilities.
"We are aware that there are some killings over the weekend. The perpetrators post such killings and destruction on the social media, claiming that they are members of the Indigenous People of Biafra or the Eastern Security Network," he said.
"I am not standing for either group but they continued to deny that they are not into violence.
"I direct security agencies to crack down on all criminal activities in the state and for those who did the killings, the security agencies must bring them to book within 72 hours; they must do that."
Umahi lamented the rampant circulation of fake news in the state and warned that the government will no longer tolerate such.
"Someone posted on Wednesday that herders attacked a school in Abakaliki and schools began to close and people running in panic," he said.
"Anyone who circulates fake news whether from the opposition or in agreement with me would be arrested and prosecuted."
READ ALSO! Nigerian Central Bank Approves Disbursement Of Loans For Creative Industries At 9%
READ ALSO! Tony Elumelu To Empower 1,000 Northern Entrepreneurs With $5000 Each
READ ALSO! How To Empower Yourself And Generate Income From Mutual Funds
READ ALSO! Is N-Power Truly Empowering Nigerian Youths?
READ ALSO! How Nigerian Govt Can Lift 100million People Out Of Poverty — Tony Elumelu
READ ALSO! TraderMoni: Poverty Alleviation Or Political Leverage?
READ ALSO! Is N-Power Truly Empowering Nigerian Youths?
READ ALSO! Gtbank 737 Disservice: How to Kick Your Customers in the Butt!
READ ALSO! Why The North Remains Headquarters Of Poverty In Nigeria — Kingsley Moghalu
READ ALSO! The Love Of Your Life Is An Illusion: It Doesn't Exist Anywhere!