Our findings have revealed why the internet giant, Google removed Rapid Naira and LCredit loan apps from its Play Store. Both apps have been found to be violating Google policies on loan application, loan approval, terms and conditions, and privacy polices guiding finance apps hosted on its network. Few months ago, scam apps such as Rapid Naira, LCredit and some others on Google Play Store predating on poor Nigerians and violating Google Policies on lending apps were shown the way out and permanently banned.
According to one of the policy statements of Google for loan apps hosted on its Play Store: "We only allow personal loan apps with full repayment required in greater than or equal to 60 days from the date the loan is issued… apps that fail to do so will be removed without further notice."
Another Google Policy states that: "Any app that offer personal loans with an Annual Percentage Rate (APR) of 36% or higher are no longer expected to be available on the Play Store. To keep their apps in the Play Store, lenders must adjust their products and business models to meet Google's requirements."
However many of the lending apps, including LCredit and Rapid Naira give loan ranging from 7 days to 30 days at very exhorbitant interest rate and APR higher than that specified by Google. The network should enforce its policies and show these violating apps the way out.
Why LCredit was removed by Google Play Store
LCredit was removed by Play Protect, the security system on Playstore that scans apps hosted on Google for malware and other malicious virus and fraudulent apps. The internet giant had warned users from using LCredit app because it was trying to spy on phone contacts, recordings, photos, banking details and other sensitive contents on their devices. This is against Google Privacy Policy.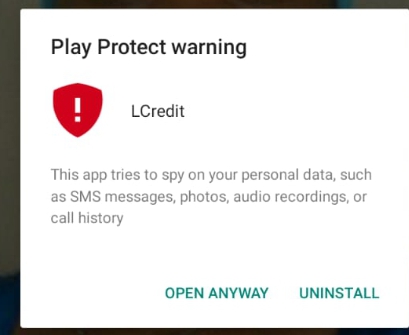 Google Play Store had warned customers about LCredit fraudulent Activities
Rapid Naira, a loan app also hosted on Google Play Store has no website address, no physical office address, no single social page and no digital trace apart from the download capability on Play Store where it scams undiscerning Nigerians.
What Rapid Naira Promises
Rapid Naira promises to get you quick loan in just few steps. The platform claims their loans are for Nigerians and that you can borrow between N6,000 to N300,000 and repay between 91 to 365 days. They also claim to charge interest rate from 2.4% to 12% monthly with an equivalent APR of 4.8% – 24%. This application promises to deposit the loan in your bank account within minutes with no paperwork, no collateral, no guarantor, no hidden charges, and so many other fake promises.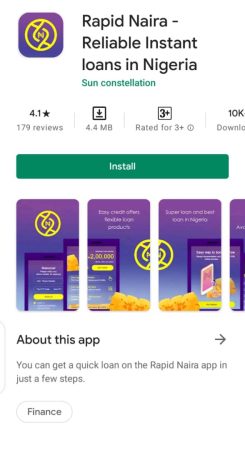 What Rapid Naira Really Does
SKYTREND NEWS findings reveal that Rapid Naira is a fraudulent and scam application. It has no quick loan to offer anyone, and it has never given any loan whatsoever to anyone. It is just a scam app designed to steal money from innocent users and undiscerning patrons and at the end of the day give them nothing. Once you fill in your account and banking security details into their app platform, they will continuously be debiting your bank accounts linked with your BVN with the name FLW Professional Service, Lekki.
We understands that so many apps on Google Play are violating their policy on lending and repayment and we call on the search giant to enforce its rules and call them to order or have them removed from the Play Store. The plight of Nigerian consumers are at stake. Regulatory authorities have also been called upon by this platform to enforce local laws on these loan sharks.
It would seem Nigeria Apex Bank (the CBN) has apparently lost clue on what to do as the Apex Bank confessed months back admitted that the quick loan apps and platform are flouting its rules on operational guidelines and yet failing to enforce the rules and landing the hammer on them.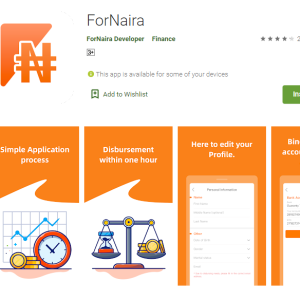 ForNaira loan app used to be hosted on Google Play Store and It's "for scam" not a loan app
What ForNaira app displays as its features:
– Borrow up to ₦300,000
– Fast and easy access to loans, with no hidden charges
– Account is credited as soon as the loan is approved
– No collateral or guarantor needed
– our Loan App is extremely secure and reliable
– Artificial intelligence is used to run credit scoring, making loan decisions instant!
– We are available 24/7 to support you
Contrary to what is on Google Playstore, ForNaira app does the following:
Give loans for 7 days as against the 91 to 360 days displayed in Google Play store
Does not give loan up to #300,000
Does not declare its real charges in the sense that, they display amount of loan to be given and what they give actually is far lesser.
Yes they do not collect collateral but they ask for guarantors.
Like others, 7 days loan starts counting the moment you receive money in your account and what you see on your dashboard immediately is 6 days remaining. Its never 7 days
Failure to pay back as at when due will have their staffs harass you, threaten you and send messages to people on your contact list that you should not be trusted and be told to pay back your debt.
See what a consumer has to say about ForNaira: "ForNaira is the worst quick online loan app…just 1 day overdue and their agent sent a message to all my contacts that is was over 2 months and that I have refused to pick calls or reply to messages. Meanwhile the lady in question sent me message as at 5:45am and I replied that I will pay by 4pm, by 9am, she started sending messages to my contacts…for what she has done I will not pay a dime again. You can't defame me and still want me to pay you after all I was still going to pay for the overdue. I have evidence."
Google does not allow apps for personal loans with annual interest rates exceeding 36% in the US, but it doesn't appear those same limitations apply to users in other countries.
"Our Google Play Developer Policies are designed to protect users and keep them safe, and we recently expanded our Financial Services policy to help protect people from deceptive and exploitative personal loan terms," a Google spokesperson said. "When violations are found, we take action."
Unfortunately, violations in one country may not be violations in another. That means it's easier for predatory loan apps to take advantage of users in developing countries like Nigeria, where many users don't have bank accounts or credit cards. It's unfortunate that this is the case, and we would like to see Google change its policies to create strong boundaries that truly protect users globally.