When the Rapid Response Squad (RRS) was created from 'Operation Sweep' by the Bola Tinubu administration in 2001, it was established to operate on four core values which are — prudence, accountability, resourcefulness and trust.
But these days, officers of the elite police squad seem not to care about these values, as some of them have now made a habit of consuming locally distilled liquor known as 'paraga' at stalls scattered around their operational base in Alausa, Ikeja. It is not also surprising seeing some of them, armed and in uniform, queuing for "lucky numbers" at 'Baba Ijebu' betting shops in Alausa.
The RRS, which consists of more than 200 officers, has had its operations gulp a huge sum of taxpayers money, and in fact, a trust fund was set up in the name of the Lagos State Security Trust Fund (LSSTF) to equip the squad through donations and contributions from private organisations and well-meaning individuals, in order to enhance its operational capability and effectiveness.
These immense contributions from both the Lagos state government and their private partners have overtime reflected in the thousands of motorbikes, patrol vehicles, helicopters, gunboats, ballistic helmets/bulletproof vests, rain coats/boots provided for the men of the RRS.
But the challenge is that the officers who are provided with these essentials and top-notch police equipment, which are lacking in most police commands across the country, seem not to be taking their jobs seriously and abide by the ethics of the profession.
'THEY TAKE PARAGA TO SHINE THEIR EYES'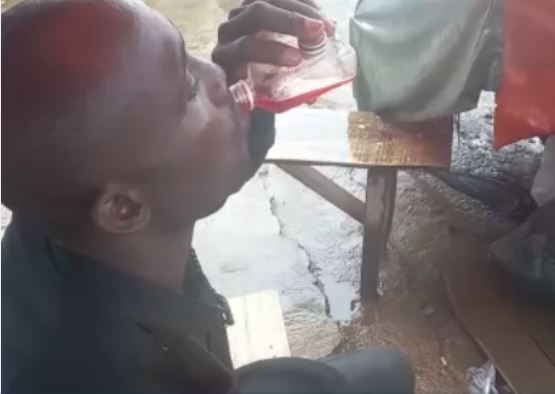 The force parade ground is situated at Alausa, and daily these officers wander on Kadiri road that leads to the parade ground, which is not far from the popular Ikeja City Mall (ICM) that houses ShopRite.
The men of the RRS are always present at different locations of the street gambling, smoking cigarettes, and drinking alcohol without any respect for their uniform or their jobs.
Speaking with newsmen, one of the alcohol sellers, whose stall is not far from the RRS parade ground, said the officers gather there to "change their clothes", "relax" and "shine their eyes with paraga" every Monday and Friday.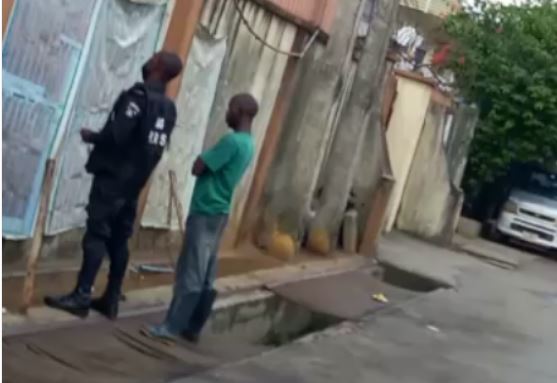 An officer going through betting numbers displayed on a fence in Alausa
The woman added that they come in groups and often before and after their parades.
"It depends, sometimes when they come, their friends want to come along. Most of them come here to change their clothes, shine their eyes and to relax," she said.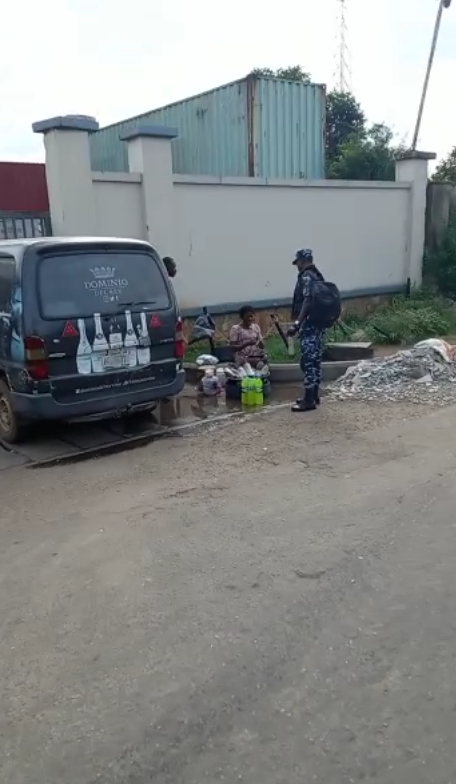 "If dem no take alcohol, dem go take 'predator', anything that will make them relax. Dem dey always plenty. Sometimes they are less than 10. While some are going, some are coming.
"Some will stay at the place of that other woman that sell over there. One thing about them is that the ones wey wan resume work go take some before dem go for parade; after parade you fit see them say 'make I take one or two' before dem go."
'NO, THEY GO THERE TO POLISH THEIR SHOES'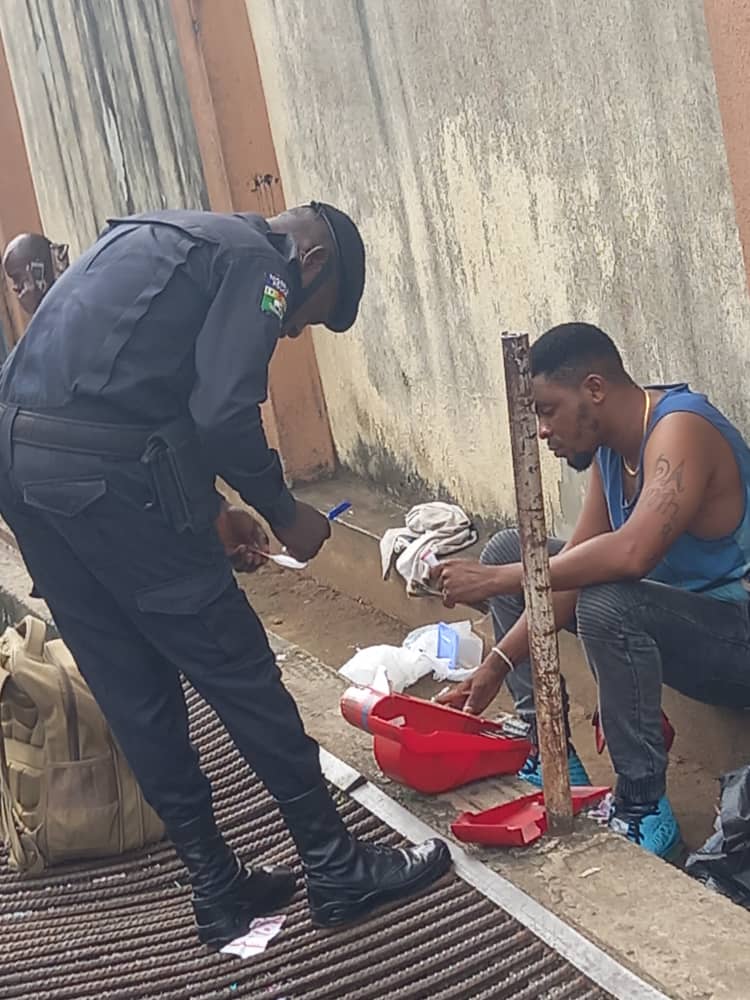 When contacted, Femi Moliki, the squad's spokesperson, said he is unaware of the unprofessional conduct by the officers, saying he is going to take time to find out if truly the men of the RRS engage in such acts.
He, however, added that he has the knowledge that the men of the RRS squad hover around Kadiri road to "polish their shoes" and "fuel their vehicles".
"Our parade ground is just around that area. What I can only see around that area is that our men go there to polish their shoes or carry fuel for their vehicles. Before the parades, they want to appear neat and appealing," he said.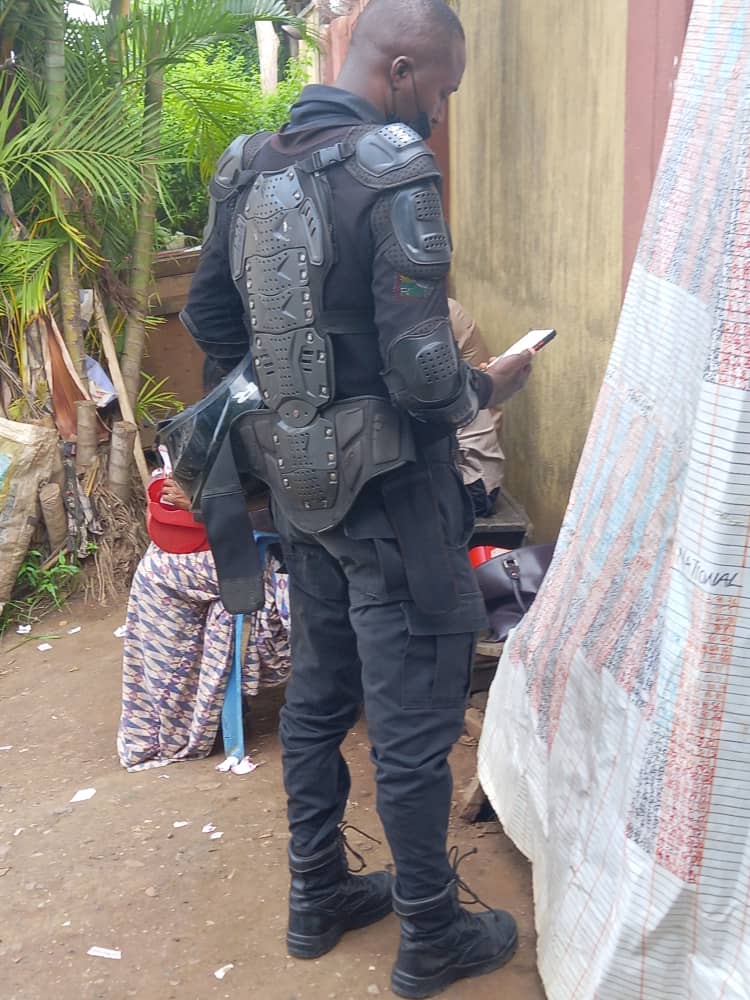 "I'm not aware of this but I'm going to take time to find out."
Hours later, Moliki returned to inform Newsmen that he had carried out his "due diligence with his team, and no man in the RRS uniform was found gambling or taking alcohol".
READ ALSO! Nigerian Central Bank Approves Disbursement Of Loans For Creative Industries At 9%
READ ALSO! Tony Elumelu To Empower 1,000 Northern Entrepreneurs With $5000 Each
READ ALSO! How To Empower Yourself And Generate Income From Mutual Funds
READ ALSO! Is N-Power Truly Empowering Nigerian Youths?
READ ALSO! How Nigerian Govt Can Lift 100million People Out Of Poverty — Tony Elumelu
READ ALSO! TraderMoni: Poverty Alleviation Or Political Leverage?
READ ALSO! Is N-Power Truly Empowering Nigerian Youths?
READ ALSO! Gtbank 737 Disservice: How to Kick Your Customers in the Butt!
READ ALSO! Why The North Remains Headquarters Of Poverty In Nigeria — Kingsley Moghalu
READ ALSO! The Love Of Your Life Is An Illusion: It Doesn't Exist Anywhere!