Aliyu Mohammed, the coordinator of the sector 4 commands, a joint border patrol team of the Nigeria customs service (NCS) in the north-west, says he had to offer seven bags of seized rice to bandits in exchange for freedom.
Addressing journalists in Katsina yesterday, Mohammed said the incident occurred in Dutsinma LGA of the state.
Mohammed was commenting on the challenges encountered by the customs officers in the discharge of their duties.
Narrating one of his encounters with bandits in a bush in Katsina, he said the gunmen asked for seven out of the 37 bags of rice they seized at the time if the officers wanted to be released alive.
He also complained that the operatives do not get enough support from the people.
According to Mohammed, in one instance, smugglers organized some villagers to hurl stones at the customs officers.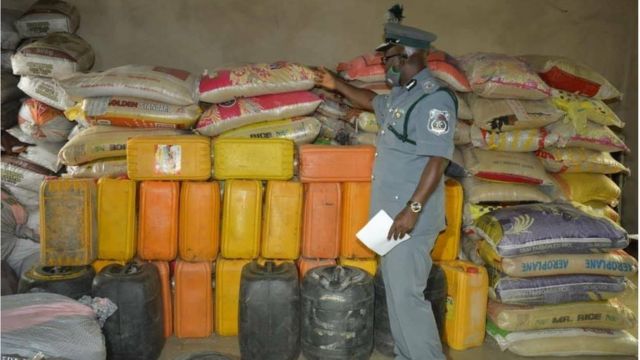 "The challenge we have is that the people we are working for are not supporting us. If we have any problem, just accidental discharge in a village, the whole people will bounce on customs. If you make a seizure, instead of the villagers to assist you, they may end up attacking you," Mohammed said.
"I sacrificed my life to enter the bush where the bandits are — the last time we had contact with them — to the extent that they were a little bit friendly with us.
"We seized 37 bags of rice and they said if we are to go, they have to take seven bags. So, we gave them seven bags to save our lives.
"So, you see the risks we take, but people, especially those living along with the border communities, engage in attacking our officers."
READ ALSO! Nigerian Central Bank Approves Disbursement Of Loans For Creative Industries At 9%
READ ALSO! Tony Elumelu To Empower 1,000 Northern Entrepreneurs With $5000 Each
READ ALSO! How To Empower Yourself And Generate Income From Mutual Funds
READ ALSO! Is N-Power Truly Empowering Nigerian Youths?
READ ALSO! How Nigerian Govt Can Lift 100million People Out Of Poverty — Tony Elumelu
READ ALSO! TraderMoni: Poverty Alleviation Or Political Leverage?
READ ALSO! Is N-Power Truly Empowering Nigerian Youths?
READ ALSO! Gtbank 737 Disservice: How to Kick Your Customers in the Butt!
READ ALSO! Why The North Remains Headquarters Of Poverty In Nigeria — Kingsley Moghalu
READ ALSO! The Love Of Your Life Is An Illusion: It Doesn't Exist Anywhere!