Today SKYTREND NEWS brings you the list of the top 40 loan sharks in Nigeria every borrowers must avoid like a plague if you want to lead a fulfilling and peaceful life.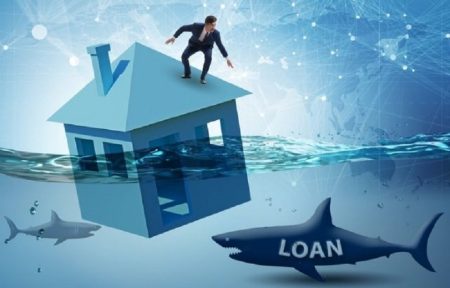 The Genesis Of Loan Sharks And Fake Loan Apps In Nigeria
The proliferation of urgent quick loan apps and instant cash lending platforms in Nigeria as a means of raising emergency funds which became occasioned by the dismal economic downturn in the country, joblessness and resulting poverty has changed the entire borrowing dynamics. Faceless loan sharks and fake lending apps hosted on Google Play Store and some on Apple Store, some of them owned by phony foreign shylocks have flooded the digital space and swindling poor and innocent Nigerians of their hard earned cash in form of loan credit.
Loan Sharks In Nigeria: How Are They Defined?
A loan shark is a loan app, digital platform, online or offline lender which offers credit loans at extremely high interest rates, has strict terms of collection upon failure, including sending threatening, shaming and defamatory messages to you and your phone contact list and generally operates outside the law. So in essence loan sharks operate illegally and are thus usually referred to as illegal loan apps and platforms.
How Loan Sharks In Nigeria Threaten, Shame And Blackmail Families, Friends And Contact List of Borrowers
Many borrowers have been speaking against the way and manner these illegal lending platforms called loan sharks in Nigeria and across the globe threaten and blackmail their customers and talking rudely to them like they don't matter. Some go as far as referring to their customers and borrowers as 'crazy', 'stupid', 'criminal' and all manner of derogatory statements at the slightest loan default.
How To Recognize Loan Sharks 
One of the modus operandi of loan sharks in Nigeria includes the sending of blackmails, defamatory messages and threats to their customers, their family members and their contacts' list and blatant, unprovoked invasion of their data privacy.
Most of these lending apps' staffs lack communication ethics as they speak in dehumanising manners to customers, calling and sending shame and defamatory messages to their contact list and referring to them as "criminals". This should be completely condemned and pronounced unethical and unacceptable in sane climes like Nigeria.
10 Ways To Identify Loan Sharks 
Accessing the contact's number and picture stored in mobile phone.
Misuse of contact numbers and pictures saved in mobile.
Invading customers' data privacy and sending defamatory and threatening messages to them and their contact list
Extremely high interest rate and penalties.
Deduction of processing and/or security deposit before loan processing
Interest deducted before providing the loan.
Constant harassment and threats on customers
Online Harassment.
Harsh and unethical means of recovery.
Use of rude and derogatory statement by loan app staff on customers
7 Warning Signs Common With Loan Sharks 
No verification of previous repayment history
Gives out loan to customers for 7 days tenure instead of minimum of 60 days by law
Creation of sense of urgency and pressurizes into acting immediately
Hidden or undisclosed charges/ fee amounts.
Unsecured websites and in some cases no website at all
No physical address disclosed by lender.
Most times, they have no social media platforms, no contact telephone numbers, non valid customer service support
5 Safety Measures To Protect Yourself Against Loan Sharks In Nigeria
Check for lenders contact information like phone number, email address and physical address.
Verify the online reviews by customers given for the lender.
Check the professional reviews on trust worthy lenders.
Make sure the loan app has been properly licensed by the Central Bank of Nigeria (CBN)
Review the app permissions regularly and give access permissions ONLY tor the purpose of the loan applied for.
List of Top 40 Loan Sharks and Fake Loan Apps In Nigeria
The following is a list of top 40 most dangerous loan sharks in Nigeria. They are not only loan sharks in Nigeria, they are also illegal fake loan apps which most of them have been banned by Nigerian authorities, Google Play Store, Apps Store, but somwhow most of them still find a way to lure unsuspecting borrowers into their loan trap net and at the end shame and defame them.
If you want to live long and enjoy a peaceful life, avoid any lending platform you find in the list at all cost. Avoid them like a plague!
Some of them have been banned by the Federal Government and a few have been banned by Google and Apple Play Store. However unfortunately many of them are still operating covertly as at the time of writing this report, scamming and defrauding hapless and poor Nigerians in the name of quick instantcash and online lending.
Be warned, don't fall for any of the following scandalous, fraudulent 35 lending platforms.
Ajeloan
BorrowNow
CashLion
Cash Mall
Cashfarm
Cashrain
Cash Wallet
CreditHall
Ease Cash
EasyCredit
EasyMoni
FastMoney
ForNaira
GoToCash
GetCash
GGMoney
GoCash
GotCash
iCredit
ICoin
KashKash
Kashpal
LCredit
LendCash
LionCash
NairaPlus
NCash
Nkash
NowCash
Okash
Oxloan
PalmCash
PalmCredit
Rapid Naira
Sokoloan
Speedy Choice
Star Loan
XCredit
9Credit
9ja Cash
FG freezes bank accounts of 30 Illegal loan apps and Loan Sharks operating in Nigeria
The Federal Competition and Consumer Protection Commission (FCCPC), says it has frozen no fewer than 30 bank accounts operated by loan sharks, illegal loan apps and digital lending companies in Nigeria.
Mr Babatunde Irukera, the Executive Vice Chairman of the Commission, said this at a media engagement in Abuja on Tuesday.
Irukera also said that the Commission had engaged Google and Apple Stores to take down some other illegal loan apps and loan sharks in Nigeria, from their stores, noting that there were certain processes required for that to happen.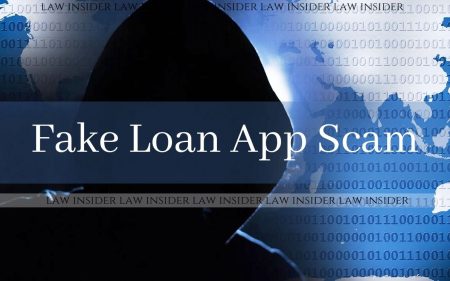 "The day we conducted the raid, we have some limited information about the bank accounts that some of the loan companies operated.
"All the bank accounts that were provided were immediately blocked but these companies operate multiple bank accounts with multiple names.
"Between the time we raided and now, we have discovered additional 30 accounts and all have been frozen and we will continue to freeze as we discover them.
"I am certain that with the actions that we have taken and the nature of the engagement we are having with the loan companies, at least three of the major ones that their businesses have been severely affected by either our search or the account closure, they are modifying.
"It will take some time but I can assure you that the space is changing now,'' he said.
Irukera called for an improved partnership with the media to educate members of the public on their consumer rights in order to achieve the objectives of the FCCPC.
FCCPC Directs Illegal Loan Apps and Loan Sharks Under Investigations To Stop Compounding Customers' Interest
Meanwhile the Commission has also directed the illegal loan apps and loan sharks in Nigeria to stop compounding interest and loan collection practices during their period of undergoing investigations.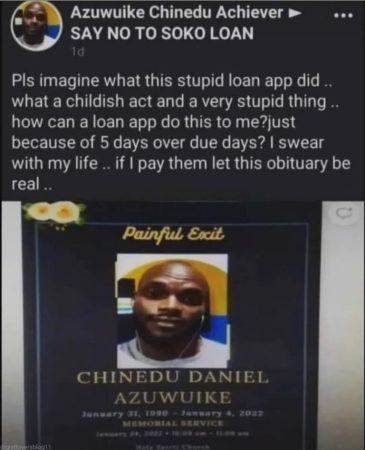 Irukera in the statement warned that violators of this order will be subjected to the full extent of the law including prosecution (without option of administrative regulatory resolution).
Irukera, however, stated that the order does not include existing borrowers repaying legitimate loans under fair and acceptable terms and conditions or any modifications to previous terms and conditions that are considered onerous, inconsistent with prevailing law or general principles of transparency and fairness.