JUST IN: Okorocha's Son-In-Law Announced APC Candidate But NWC Suspends Primary Indefinitely
Imo,Nigeria News 2nd October, 2018: The confusion in the Imo state chapter of the All Progressives Congress (APC) took a new turn on Tuesday as Uche Nwosu, an in-law to Rochas Okorocha, governor of the state, was announced as winner of the governorship primary election.
While Nwosu was being declared winner, Yekini Nabena, spokesman of the APC, issued a statement to say the primary had been suspended indefinitely.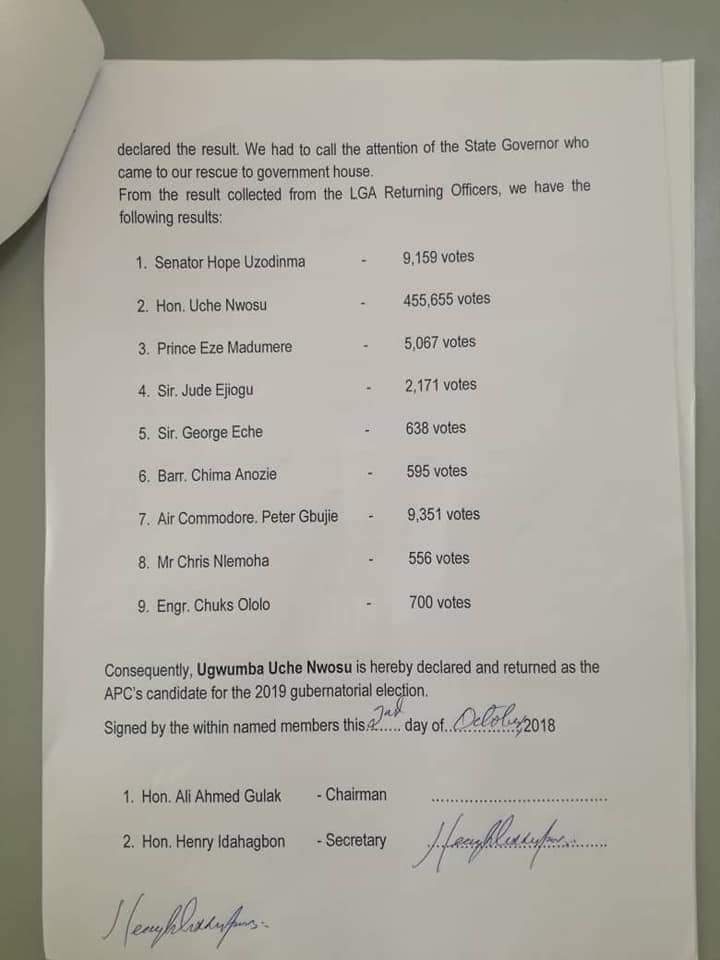 More to follow…
Contact Editor using editor@skytrendnews.com or call direct 0808 360 9209.
READ ALSO! More Nigerians Becoming Extremely Poor, 40% Of World's Poorest To Live There And Congo By 2050
READ ALSO! More Nigerians Now Living In Extreme Poverty — International Labour Congress
READ ALSO! 10million More Nigerians Have Been Lifted From Poverty Under Buhari — Presidency Says
READ ALSO! Buhari Reacts To Boko Haram's Threat To Kill Leah Sharibu
READ ALSO! More Nigerians Getting Killed, Getting Poorer, Hungrier Under Buhari's Incompetent Regime — PDP
READ ALSO! More Nigerians Have Been Murdered In Attacks Since January More Than Entire 2017 — Amnesty International
READ ALSO! 10million More Nigerians Have Been Lifted From Poverty Under Buhari — Presidency Says
READ ALSO! More Nigerians Travelling Out Due To Economic Hardship, Over 500,000 Since 2016
READ ALSO! The Smart CEO: Top 5 Websites To Get Cheap Domain Name Registration
READ ALSO! More Nigerians In Kano, Katsina Now Using Hard Drugs — Group Says
READ ALSO! More Nigerians Dying Hourly From Tuberculosis, 18 Every Hour — WHO
READ ALSO! Between GoDaddy And Namecheap: Making The Best Choice For Domain Name Registrar
READ ALSO! Nigeria Couples: Now You Can Know If Your Partner Is Cheating On You; SEE 11 SURE Ways