If you have received unsolicited funds from Rapid Naira loan app, or you have been scammed by the fraudulent lending platform and you need their customer care details such as their email to send a message to them, or phone number to reach out to them or you need their account details to refund their unsolicited fraudulent loan, then read this article to understand how fraudulent Rapid Naira is.
You would also see at the bottom, all the details of Rapid Naira Customer Care you are looking for, including the bank accounts they use in collecting and sending monies to customers and how they are complicit.
Rapid Naira claims to be a loan app but we have determined that it is simply a scam Chinese lender to impoverish Nigerians. Once the platform successfully download your phone, banking and contact details after you download their app for a loan request, you are almost stucked with them. They would keep sending you money you never asked for at unreasonable and unbearable interest rate for 7 days tenure.
As I write this article, Rapid Naira has no documented website address, has no office address, has no publicly displayed company name or registered name, and yet goes about injuring and scamming the bulk of their customers who once downloaded their app.
We were only able to get the Rapid Naira customer service numbers, their email address and their bank account details through their previous customers who contacted them and we interviewed.
Rapid Naira Customer Care Number, Bank Account Details And Emailing Details
Find below the details of Sterling Bank which Rapid Naira uses in their scam lending operations. The account is where they either transfer money to borrowers or receive repayment after the loan is due.
Acounts Name: MFY/HOLLANDALE-FAD
Accounts Number:  8466658235
Bank: Sterling bank
Rapid Naira Customer Care Numbers
0813 440 2471, 0913 121 1797, 0903 1743015
Rapid Naira Email
Rapidnaira.service@outlook.com.
Rapid Naira Website
h5.rapidnairaapp.com
Rapid Naira Bankers
Rapid Naira uses Sterling Bank and Moniepoint now Moniepoint Microfinance Bank for all its dubious and fruadulent transactions. How this banks haven't realized this and allowed themselves to become accessories in the act of alleged crime is beyond me.
Customer Who Fell Victims Of Rapid Naira Jumbo Loan Recounts Gory Experience To QUICK LOAN ARENA
Evidence That Rapid Naira Bankers Are Sterling Bank And Moniepoint
The loan app uses Moniepoint Microfinance Bank to transfer money to customers. Moniepoint is a relatively new FINTEC that provides banking solutions that enable businesses to collect payments, access loans, manage operations and ultimately grow their business. Moniepoint claims to give loans up to N5M for businesses, a claim QUICK LOAN ARENA cannot establish. In April 2022, Moniepoint relaunched its product, as a business bank. The company said the move was in order to power business dreams of Africa's real economy, and provide financial happiness to all.
Moniepoint, which would serve as a micro-finance bank, was developed to address the needs of several small businesses, including Small and Medium Enterprises (SMEs) that have been neglected over the years by legacy and digital banks.
However for Moniepoint to to allow its banking service to be used by this fraudulent app means its allegedly complicit and should be investigated by the Nigerian Financial regulatory authorities since Rapid Naira has been banned by Google and by the Nigerian Government over its fraudulent dealings. Rapid Naira has no office, no office addrsss, no website not a single media page or phone number. It however has an email on its app which customers use to reach the app as follows
Rapid Naira: Fraudulent Loan App In Nigeria, Banned By Google Play Store And Blacklisted by Us
Rapid Naira application has been involved with fraudulent activities for the last one year consistently and relatively unachallenged by any known  regulatory authority in Nigeria.
In July 31st, 2022, QUICK LOAN ARENA published an article titled: "Run From LCredit Loan App, They're The Most Fraudulent After Rapid Naira"
We warned Nigerians then as follows: If there is any online lending platform in Nigeria, people should run 1000 km away from, and never patronize anymore, it's LCredit Loan App, reputed as one of the most fraudulent lending platforms in Nigeria after the most dubious Rapid Naira and Sokoloan that have since been shut down by the Nigerian government and banned by Google Play Store.
LCredit loan app has been codenamed "The multiple violating online lender in Nigeria" for all its violations, for customer data privacy breach, for defaming and sending defamatory messages to its customers and their contact list and for spying its customers sensitive banking information albeit illegally.
LCredit loan app was finally shown the way out of Google Play Store in May 2022 after QUICK LOAN ARENA damning report on the loan app's serial abuses, loan application and tenure violation and abuse of customer data privacy and other several infringements recorded against the lending platform.
However since LCredit final exit from the Nigeria's space, Rapid Naira, its twin brother in financial treachery has taken over and even outperformed when it comes to innovation in fraudulently dealing with Nigerian poor borrowers whose only offense was ever patronising these illegal loan apps, for at least once, apparently before ever discovering how fraudulent they are.
Rapid Naira was removed from Google Play Store in October 2021 after serial violation of Google policies on loan application, loan approval, terms and conditions, and privacy polices guiding finance apps hosted on its network. Before this ban, QUICK LOAN ARENA has reported that scam apps such as Rapid Naira and some others like it on Google Play Store are predating on poor Nigerians and violating its policies on lending apps.
QUICK LOAN ARENA findings as far back as September 2021 revealed that Rapid Naira is a fraudulent and scam application.
Once our report indicted Rapid Naira and it was shown the way out of the Play Store, the scam app quickly devised another means of siphoning money from poor Nigerian borrowers. QUICK LOAN ARENA investigation again unveiled their newest tactics and method of scamming and defrauding Nigerians thereafter. Rapid Naira continues to operate underground albeit fraudulently and illegally because many customers already have its app downloaded on their phone and unaware of their latest tactics. We consequentlt wrote to warn Nigerians to uninstall the app.
We have been at the forefront of warning Nigerians a long time ago about this dubious and fraudulent loan shark called Rapid Naira and advised every borrowers to abstain from their app in yet another article we published last year September titled: Rapid Naira Is A Fake Quick Loan App, Do Not Download!.
However since then customers have been calling us and asking if we have any relationship with Rapid Naira as our name keep popping up whenever they are searching for the app customer service details online. This is due to the many articles we have written against them. Then again we warned Nigerians about their latest style of scamming customers.
Rapid Naira Unethical Practice of Forcing Unsolicited Loans On Customers With Outrageous Interest
Their latest method of scam however is perpetrated against their subsisting customers who already have their app downloaded on their phones and have once borrowed money from the fraudulent online lending platform. Their scheme is to transfer a given amount to you unsolicted, and then double it on the dashboard with loan shark interest, and ask you to repay bacl principal and interest in 7 days time.
Rapid Naira is now forcing its "unsolicited loans" on all of their previous customers even after uninstalling their app, since no one is patyronising the fraudster app anymore. If you have ever gotten a loan from them or have ever installed their app on your phone, it means the platform already has your banking details and account number safely on their database. They randomly send different amount of money to those customers on dubious interest rates sometimes for up to 100% APR and interst rate. God help you if you fail to pay in 7 days time, your number will reverberate all over social media space as a debtor withyour full details and photographs, calling you unprintable names.
Rapid Naira is one of the greatest scammers and fraudsters of a loan app, and one of the earliest to be banned in Nigeria after we did a damning report on them. The loan app has no physical office, has no virtual office, Rapid Naira has no website or social media page, no facebook, instagram or whatever.
Pic 1. See Below Screenshot of the Rapid Naira alert of dubious unsolicited loan transfer to a customer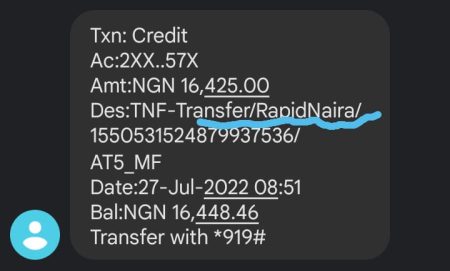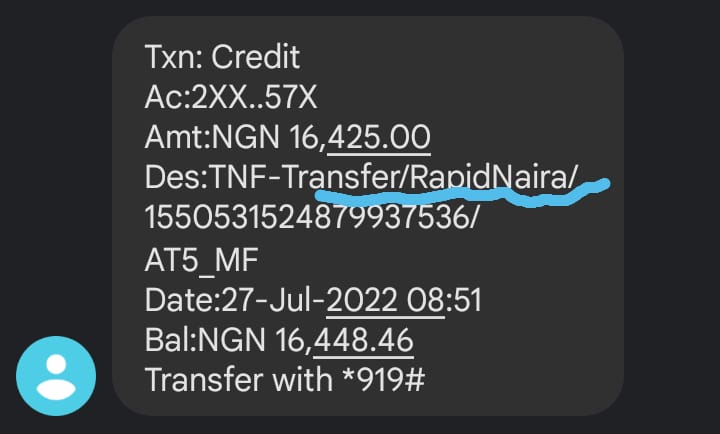 Pic 2. See Below Rapid Naira dashboard requesting customer to pay dubious fraudulent interest plus principal on unsolicited funds

Pic 3. See Below Customer's protest to Rapid Naira loan app scam, that she never requested for a loan.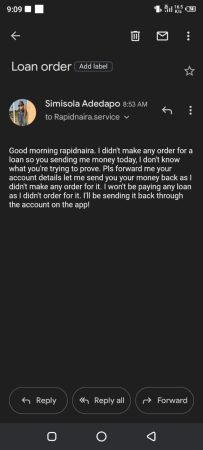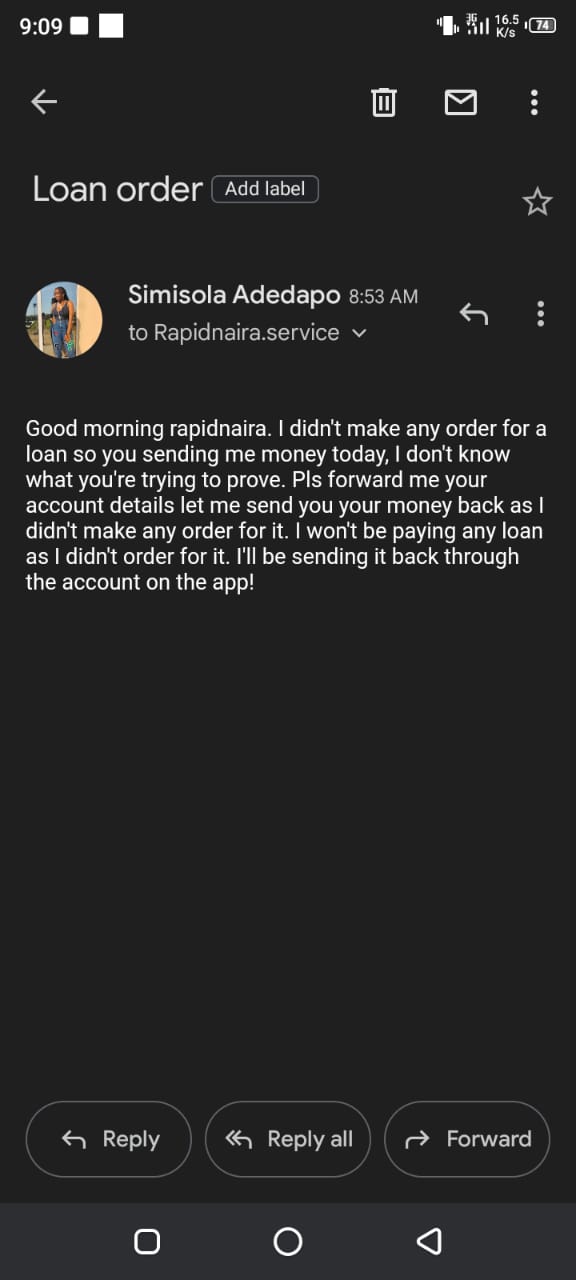 How Sterling Bank And Moniepoint Microfinance Bank Are Complicit In This Rapid Naira Scam
This is what Rapid Naira have been doing with all their customers since they became jobless having been banned from Google Play Store and after QUICK LOAN ARENA several indicting and expository reports on them. They will send you money and expect you to pay about 50% interest in 7 days time.
Our investigations reveal Rapid Naira uses Moniepoint Microfinance Bank to transfer those fruadulent and unsolicited loans to customers. This means they have an active account with Moniepoint MFb. Our findings further show that the loan app has an active account in Sterling bank which they use in recovering their scam loan repayment. How the authorities haven't discoverd this money laundering account and issued a lien on them is what perplexes this medium. Where's Central Bank of Nigeria (CBN) in all this? Where is Dr Irukere and his team in FCCPC with all their barkings and clamping down on illegal loan apps bank account?
See below screenshots showing evidences of Moniepont complicity as an agent the app uses to transfer money to its cutomers. The screenshots also shows the exchanges between a customer who got one of the unsolicited funds and had to return it back to Rapid Naira Sterling Bank account from her own Kuda Bank account.
Pic 4 Below
Rapid Naira sent an unsolicited loan of N50,000 to this young lady asking her to repay N70,000 in 7 days without any request. The money was sent to her through Moniepoint MFB. Luckily for her this is about the 3rd time tey are sending such illegal funds and she already has their SDterling Bamk account details which of course uses a phony name so their fraud won't be exposed to the public. She swiftly refunded the money to Rapid Naira Sterling Bank account details as shown above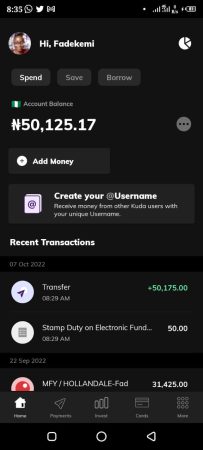 Pic 5 Below.
The money was sent to the target victim by Rapid Naira the morning of 7th october by around 8am using their bank account in Moniepont Microfinance Bank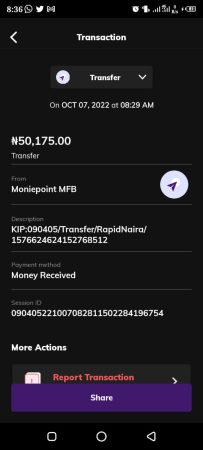 Pic 6 Below.
The victim quickly wired an email to Rapid Naira rejecting the funds and informing them that she is sending it back right away and that they should provide her with their bank account details for a refund.

Pic 7 Below.
Realizing their scam has been unveiled, Rapid Naira quickly replied with a face saving response that the customer should use their offline Sterling Bank Account on the app.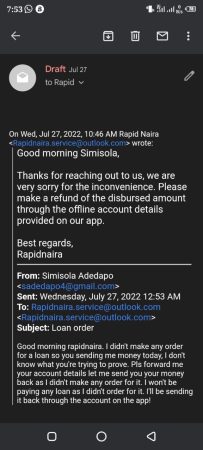 Pic 8 Below.
Rapid Naira Sterling Bank account details publicly displayed on their app dashboard. This is evidence Sterling BANK is complicit in this whole fraudulent deals. If they are not, they are supposed to report the app and expose their scam. Please see below.
CBN, FCCPC, and other financial regulatory agencies should investigate Rapid Naira bank account details in Sterling BANK as shown in their dashboard below.
Acounts Name: MFY/HOLLANDALE-FAD
Accounts Number:  8466658235
Bank: Sterling bank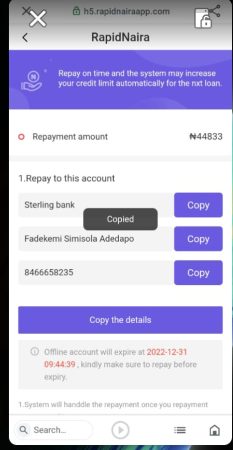 Pic 9 Below.
This is where the customer sent an email to Rapid Naira that she didn't request for any loan.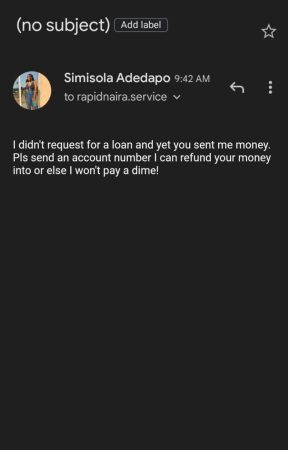 Pic 10 Below.
This was the first time this customer got an unsolicited loan from Rapid Naira and detailed receipt of how she refunded the unsolicited loan to the app.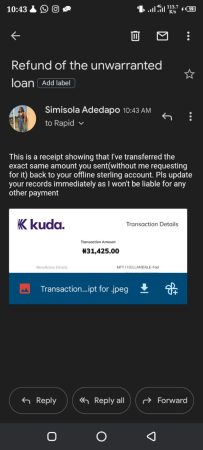 Pic 11 Below.
Moniepoint Microfinance Bank used as source to transfer fraudulent money by Rapid Naira to customer. This is evidence of Moniepoint complicity in this whole loan scam.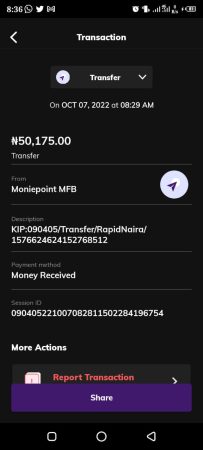 Google Policy Statements On Loan Apps Indicts Rapid Naira and Other Fake Loan Apps
One of the policy statements of Google for loan apps hosted on its Play Store states: "We only allow personal loan apps with full repayment required in greater than or equal to 60 days from the date the loan is issued… apps that fail to do so will be removed without further notice."
Another Google Policy states that: "Any app that offer personal loans with an Annual Percentage Rate (APR) of 36% or higher are no longer expected to be available on the Play Store. To keep their apps in the Play Store, lenders must adjust their products and business models to meet Google's requirements."
However many of the lending apps, including LCredit and many other loan apps in Nigeria give loan ranging from 7 days to 30 days at very exhorbitant interest rate and APR higher than that specified by Google. The network should enforce its policies and show these violating apps the way out.
Loan apps are required to indicate minimum and maximum period of repayment, maximum annual percentage rate, and other information, which most either misrepresent or omit. In particular, by offering loans of just seven days, for instance, these providers clearly flout a major criterion by Google that no tenor should be less than 60 days.
"I was broke then and under pressure to settle certain things," said Chidi, who borrowed N10,000 each from three of such apps in mid-2021, a total of N30,000 ($72) but defaulted after the 2-week tenor. This led to a tsunami of messages and calls, first to threaten him to repay, then to all his phone contacts. He identified iCoin as one of the apps but couldn't recollect the others when interviewed.
Google states in their policy on personal loans: Advertisers for personal loans must prominently disclose additional information on their destination site or app. Disclosures increase transparency and provide consumers with valuable information to make informed decisions.