Nigerian political heavyweights are feeling the effect of Twitter's radical changes to its verification process.
The microblogging site, Twitter, has continued its tsunami-like removal of verification badges from accounts of users who were hitherto accorded special status privileges.
The latest round of removal has seen Nigeria's President-elect, Asiwaju Bola Tinubu and the first and second runners-up in the 2023 presidential election, Atiku Abubakar and Peter Obi, respectively lose their legacy blue ticks.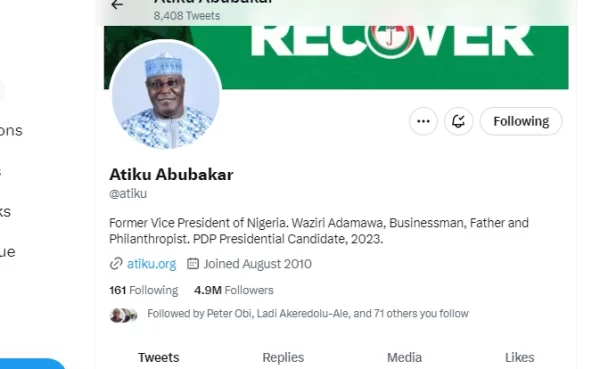 A quick check on the handles of the All Progressives Congress (APC), the Peoples Democratic Party (PDP), and the Labour Party presidential candidate's Twitter handles late Thursday, April 20, 2023, shows that the blue tick has disappeared.
This is part of the radical reforms Twitter has undergone since the platform was acquired by billionaire businessman, Elon Musk.
Musk, whose $44 billion investment in the microblogging site has shrivelled, had vowed to get rid of a model he described as a "lords & peasants system."
While earlier dates set for the blue ticks removal have passed without any noticeable action, Thursday saw accounts of high-profile users, including, world leaders, politicians celebrities, and journalists being stripped of the special recognition.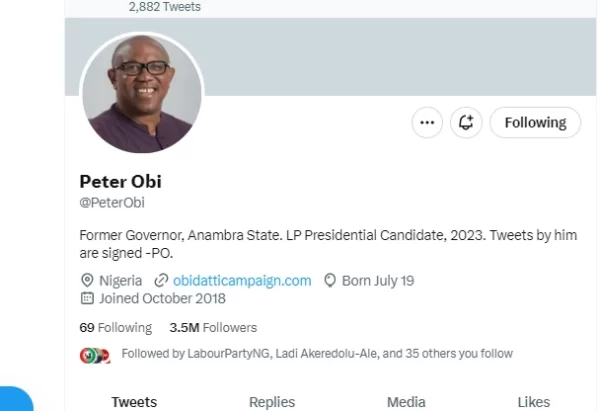 Though Musk argued that the blue ticks have become a 'corrupt' status symbol for elite personalities and news reporters, critics of the new policy believed the billionaire's quest to boost the struggling platform's revenue was the main reason for the changes.
However, the company said users could get their marks back by paying between $8 and $11 per month, some longtime users have shown less enthusiasm towards buying the premium services.