He shook his head intermittently in disbelief, wiping off tears with his right palm. For about two minutes, Nurudeen Solagbade, could not utter a word from his bed at the Lagos Island General Hospital.
He kept nodding his head in assurance to his worried relatives waving at him through the ward window that he was fine. The more he tried to engage them, the more he betrayed emotion.
"I never thought I would be alive," the 33-year-old bricklayer intoned when he eventually mustered courage.
Solagbade was one of the survivors rescued from the rubble of a 21-storey building that collapsed around 2pm on Monday on Gerrard Road, Ikoyi, Lagos. The building was one of the three high-rise residential buildings owned by the Managing Director, Fourscore Heights Limited, Femi Osibona.
The building project which started in 2020 was billed for completion in 2022 with appreciable units of flats worth millions of naira said to have been sold to some potential homeowners whose dreams were shattered on Monday when the skyscraper crumbled.
As of Thursday evening, 40 corpses comprising 37 males and three females, had been recovered from the site.
Over 50 persons, including Osibona, his personal assistant, Onyinye Enekwe, and friend, Wale Bob-Oseni, were trapped in the building.
Luckily, nine persons survived the tragedy with three of them treated and discharged from the hospital on Tuesday. The six others admitted at the general hospital are Solagbade, Timileyin Oduntan, 26; and Waliu Lateef, 32; Ahmed Kinleku, 19, a national of Benin Republic; Sunday Monday, 21 and Adeniran Mayowa, 37.
Solagbade, a native of Iwo, Osun State, told our correspondent who visited the hospital on Wednesday that he, Lateef and about 33 others came from Ibafo, Ogun State, on Monday to work at the site.
He explained that he was putting finishing touches to a plastering work at Floor 15 when the building suddenly collapsed.
The bricklayer stated, "Waliyu (Lateef) and I have been living in Ibafo for over 10 years. We are from the same compound in Iwo. We were about 35 from Ibafo that went to work at the site that day. We were many and came from different areas. That was my first day of working at the site. Ordinarily, I would not have gone there to work but I didn't have any other means to feed my family.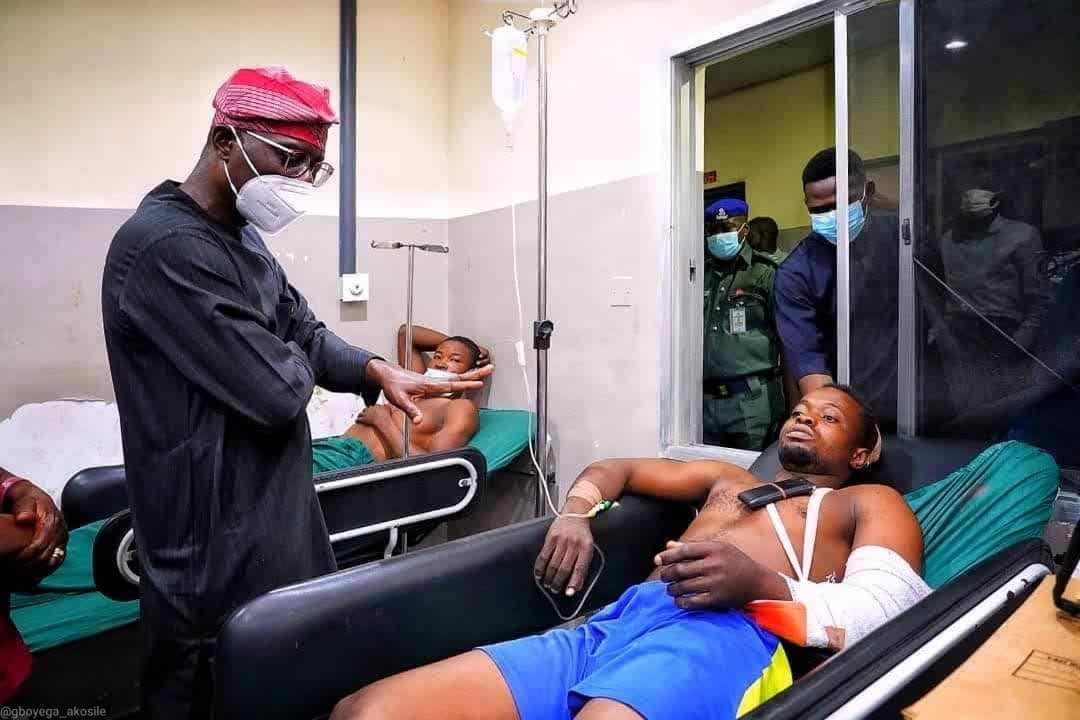 "Waliyu, Ayo (yet to be found) and I were asked to plaster an apartment for N40,000. We were about to complete the task when the building collapsed. I initially thought it was the lift installed in the building that crashed until I found myself buried."
Having spent a day inside the rubble without food, water or sufficient air, Solagbade felt the end had come; more so with the gory sight of dead bodies scattered around him. He and Lateef were eventually rescued on Tuesday.
He said, "We didn't sleep all through Monday night. We saw a small hole where little air was coming in. We couldn't stand so we had to crawl to the spot to get some air. We crawled on broken concrete blocks.
"Early Tuesday morning, we heard voices of people around the site and started shouting 'help, help.' After some time, they responded and told us to be patient. It was God that saved us; it wasn't our knowledge. I couldn't believe we would come out alive and see our families again. The developer was also in the building when it collapsed. He was there with some other people."
Solagbade sustained injuries in his spine, left leg and hand but said he was gradually responding to treatment. "I am still feeling pains in my spine and left leg. They have done a scan and they are attending to us well," he added.
I was already saying final prayers –survivor
It was observed that the impact of the building collapse affected Lateef's left eye, chest, back and right leg. Like Solagbade, the 32-year-old artisan said he never believed he could have another shot at life after he found himself trapped in the rubble.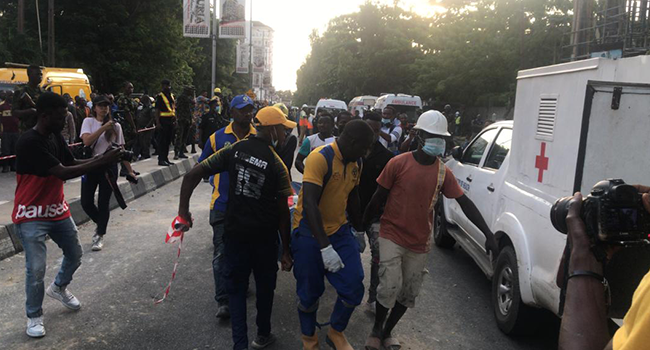 He said, "It was God's mercy that I survived. I begged him for mercy because I thought the end had come. I had concluded that I would die and decided to say final prayers so that I would make heaven."
Recounting his horrendous experience under the debris, Lateef said he was in a bent position for several hours and became so weak that he nearly passed out.
He added, "There was a lighter with me. I turned it on and saw dead bodies everywhere. Bricks had fallen on some people and they were struggling to breathe. It was a horrible way to die and I don't wish it for my enemies. I was touching the heads of dead people. With this experience, I will never work in high-rise buildings again."
Newsmen also entered another ward where Oduntan and three other survivors were admitted.
Surprisingly, one would hardly notice Oduntan was a victim as there was no visible mark of injuries on his body. "It was the grace of God," he said, beaming with excitement.
Oduntan, who resides in the Agege area of the state, said he started working at the site four weeks ago as a labourer, adding that he and few others were eating in the backyard of the building when the tragedy struck.
He recounted, "We were all confused and ran to hide somewhere. I hid near a container. Everywhere was cloudy and dark; we couldn't see anything. I heard the sound of something crashing towards the spot where I hid and shifted my body. A brick fell on my right hand. I struggled to pull it off and came out myself. It was just God that saved me. Everything happened within seconds.
"I called for help and some people assisted me to rescue Sunday (Monday) and two other persons close to where I hid. We wanted to rescue more people but police chased us away from the site."
READ ALSO! Nigerian Central Bank Approves Disbursement Of Loans For Creative Industries At 9%
READ ALSO! Tony Elumelu To Empower 1,000 Northern Entrepreneurs With $5000 Each
READ ALSO! How To Empower Yourself And Generate Income From Mutual Funds
READ ALSO! Is N-Power Truly Empowering Nigerian Youths?
READ ALSO! How Nigerian Govt Can Lift 100million People Out Of Poverty — Tony Elumelu
READ ALSO! TraderMoni: Poverty Alleviation Or Political Leverage?
READ ALSO! Is N-Power Truly Empowering Nigerian Youths?
READ ALSO! Gtbank 737 Disservice: How to Kick Your Customers in the Butt!
READ ALSO! Why The North Remains Headquarters Of Poverty In Nigeria — Kingsley Moghalu
READ ALSO! The Love Of Your Life Is An Illusion: It Doesn't Exist Anywhere!