A Nigerian man is seeking for advice on how to convince his wife, who is the mother of his two children, to divorce him so that he would marry a younger lady that he loves.
In a post shared on his social media page, the 38-year-old man said he married his 33-year-old wife out of pity because she stood by him when he had nothing six years ago.
The man said that after he made money, he began cheating indiscriminately which he rubbed in her face but she still refused to leave him despite knowing that he doesn't love her.
In his quest for love, the man said he finally fell in love with a lady in her 20s and his wife is aware of his sexual affair with the young lady but she never complains.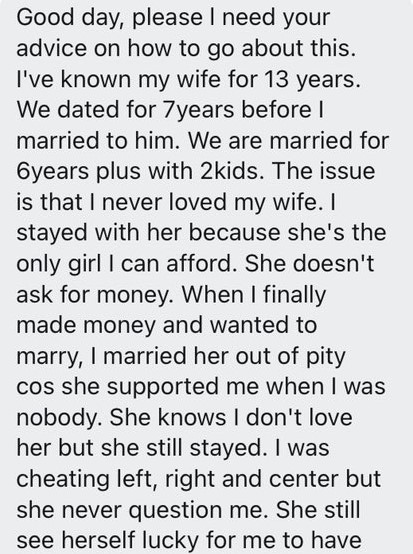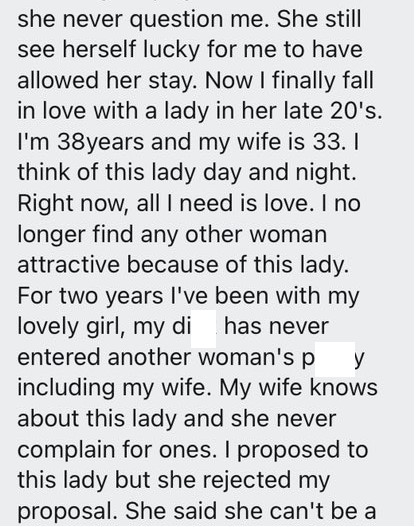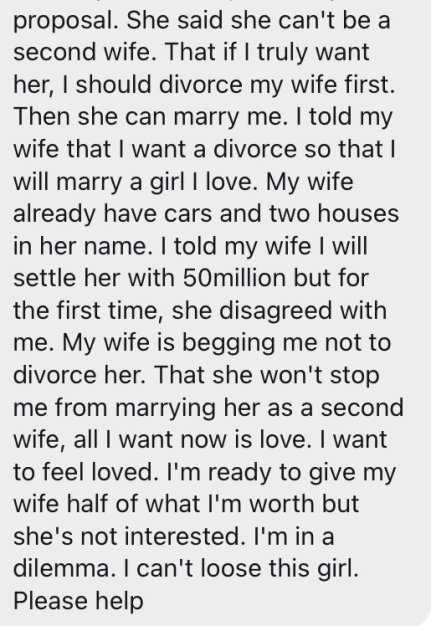 READ ALSO! Nigerian Central Bank Approves Disbursement Of Loans For Creative Industries At 9%
READ ALSO! Tony Elumelu To Empower 1,000 Northern Entrepreneurs With $5000 Each
READ ALSO! How To Empower Yourself And Generate Income From Mutual Funds
READ ALSO! Is N-Power Truly Empowering Nigerian Youths?
READ ALSO! How Nigerian Govt Can Lift 100million People Out Of Poverty — Tony Elumelu
READ ALSO! TraderMoni: Poverty Alleviation Or Political Leverage?
READ ALSO! Is N-Power Truly Empowering Nigerian Youths?
READ ALSO! Gtbank 737 Disservice: How to Kick Your Customers in the Butt!
READ ALSO! Why The North Remains Headquarters Of Poverty In Nigeria — Kingsley Moghalu
READ ALSO! The Love Of Your Life Is An Illusion: It Doesn't Exist Anywhere!